Previous editions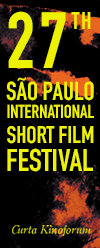 see the website
2016 - The World Changes

Over the past 15 years, the voracity of the changes brought about by globalization and the development of new technologies have inspired philosopher Zygmunt Bauman to come up with the term "liquid world" to define the reality of today's world, marked by the break of paradigms and constant uncertainty. When we think about this fluidity, the most obvious image that comes to mind is that of the water flowing through the river bed, its force strong enough to destroy barriers and move over obstacles. We don't always remember, however, that at extreme temperatures even what seems more solid to us like the earth, liquefies and becomes lava. Short film is perhaps one of the fastest artistic expressions when it captures the daily eruptions of our liquid world.
Fiction, documentary, animation, experimental films: much the same way liquid material exceeds barriers modifying the environment, the boundaries of audiovisual genres also seem to be increasingly disappearing. The author's view, however, is more and more essential – it is in the private world of the artist that new paths and proposals for all of us are created.