Previous editions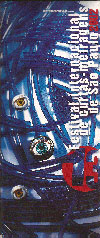 2002 - A New World, New Visions
The short film has always been a fertile ground for the Discovery of new visions. If the short marked the early days of cinema, it is through this format that we started to live more intensely the digital image era.
For that reason the 13th Sao Paulo International Short Film Festival focused on the new filmmakers around the world that have started to have access to the means of production.
Several shorts in that line were exhibited, approaching several themes such as globalization and September 11.
In 2002 the festival started also a new activity: Kino Nite were filmmakers do videos scripted, produced and concluded in only one day and screen them in the same day at nighttime during the festival.
The festival also started presenting new programs such as the Critic's Week from Cannes selection and the Mix Brasil Sexual Diversity program.