Previous editions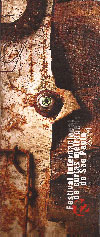 2001 - Cinema Belongs to Women
The XII Festival celebrates the Feminine Eye in the short film world. The Festival presented the Brazilian audience with two retrospective, honoring the French-Belgian Agnès Varda and the Ukrainian-American Maya Deren. Both inspirational muses -- Varda, from the French Nouvelle Vague; Deren, from the American underground cinema - are creators of groundbreaking works, which look with an original and poetic gaze at themes ranging from the custom revolution of the 60s to the Haitian Voodoo rituals.
Another retrospective presented short films by the most important Brazilian women filmmakers from all times. Along these lines, the Festival offered films from the German festival Femme Totale, fully dedicated to the feminine gaze. As for special programs, a selection of films from the series "Erotic Tales" offered pieces by filmmakers Jos Stelling, Hal Hartley, Bob Rafelson, and Nicolas Roeg, among others.
"Showcase Television" presented works by new Canadian filmmakers and the guest festival was the MiX Brazil. A real nugget was the animated cartoon retrospective of sex symbol Betty Boop. The International Program was stronger than ever, with award-winning films from Cannes, Venice, Berlin, and elsewhere. The highlights in the Latin American Exhibition were the number and quality of Mexican productions.
Brazilian Panorama broke another submissions record: 153 films, of which 67 were selected to join the program, and 34 more to participate in the showcase "Films on Course". The E-Films Competition was back in its 2nd edition and the Festival launched a new activity: the Kinoforum Cultural Workshops, where youths from São Paulo had the chance to prove their talent by making their own digital videos.