Previous editions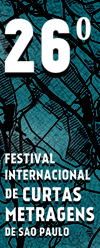 see the website
2015 - Urban Mobility

The plurality of views that the São Paulo International Short Film Festival programming presente could not be based on a more favorable location than the city of São Paulo. It is in this multiple metropolis with its millions of inhabitants coming from all corners of the country and the world that e welcome our guests and present these fresh and sharp views to the world in our main programs dedicated to recent production of short films. We've noticed, since changing our headquarters downtown, the generosity of the metropolis to its visitors, a reality even more present in the vicinity of the Festival.

Among the many attributes of the city, a theme has been standing out in recent years: urban mobility. Increasingly, thedisplacements within this myriad of ways creates concern while providing new ways to enjoy the city and to considerits problems. That's why this is one of the focus of our programming in this 26th edition.

So that all of this can reach the public, it's paramount that we have the confidence of producers and directors who trust us with their films as well as the partnership with our sponsors – Petrobras and Sabesp – and co-makers – SESC, MIS, Cinemateca Brasileira, the State and the City of São Paulo, with the seal of Ministery of Culture, in addition to all our supporters and partners.