Previous editions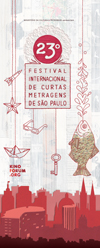 see the website
2012 - EXPERIENCES and SENSES

The internet is getting the Festival increasingly closer to the short filmmakers of all the world. Wit this accessbility the number of film entries reached 3500 entries in this edition 2012. When we remember that 10 years ago, the Festival registred 600 shorts.
If in recent years, many short films reflected a bitter taste of crisis, this year it seems that life got a little sweeter. Problems never totally disappear, that´s for sure, but some are concerned with the most important aspects of life – love and the other. And these questions were highlighted in the festival program.

Taking about program more than 100 films were exhibited in sold out screenings.
With the support of Petrobras we exhibited almost 400 films, and we brought and host in São Paulo almost 200 guests and also promote meetings and debates.
The French Consulate allowed the Festival to have music in the event. The presence of the show man Serge Bromberg and his Retour de Flamme, showing old, rare, treasures in films, playing live piano.
Music was also present with the concert and exbition of shorts by the group Grivo.

Thanks to the support of Avon, we continue with the showcase Feminine Plurality, focusing the women´s labor.The works developed in the Oficinas Kinoforum, 15 shorts, during the season 2012, were exhibited. The book Vi Vendo...telling the stories of the worshops since its beggining, in 2001. Kinooikos online showcase brought works/projects developed in different collective groups of production.

Once more the Festival could count with the partnership of other important festivals and international institutions.
A selection of films exhibited in the Critics Week of Cannes, a program celebrating the 20 years of University del Cine, from Argentina, Kids and teens showcase, Homofobia – The others are us, For a few minutes more, Media-activism showcase, were some of the special programs exhibited.