Previous editions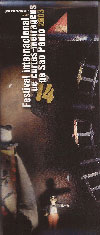 2003 - ABD celebrates its 30th birthday

In 2003 the Brazilian Documentarists Association celebrated its 30th birthday with special programming in the festival.
The Horror was the subject of the focus, not the horror we see in the everyday life in big cities and terrorist groups, but the terror as pure cinematographic spectacle, a strong genre as centennial as cinema itself.
The festival started to do its tour not only in Rio de Janeiro and Porto Alegre but also in Recife.