Previous editions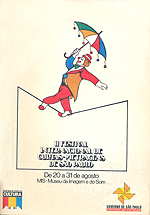 1991 - Short Films as Resistance

During the Brazilian cinema crisis period, when the production of feature films was scarce, making short films became the ideal format for the new generation of filmmakers. From the mid-80s on, the national scene experienced the blooming of short filmmakers, who created works awarded in Brazil and overseas.

The II Festival took place in 1991 and confirmed the power of this trend, offering a retrospective of the most important Brazilian short films produced in the previous decade. Among them were "A Garota das Telas", by Cao Hamburger, "A Mulher Fatal Encontra o Homem Ideal", by Carla Camuratti, "Dov'È Meneghetti?", by Beto Brant, "Mato Eles?", by Sérgio Bianchi, besides the award-winning "Ilha das Flores", by Jorge Furtado, and "Meow", by Marcos Magalhães. The Brazilian Panorama showcased 60 new Brazilian short films, including Tata Amaral's "Viver a Vida".