Previous editions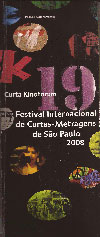 see the website
2008 - Art and Politics

We've taken a closer look at political questions stirring our world this year. We granted an all access pass to a young crew called Red Submarine who wanted to bring back some of May 68 issues and discussions to the present in order to provoke viewers and lead them to ponder upon them. We also present short films specially created by students for the Festival and a Globo News miniseries celebrating the fourtieth anniversary of May 68.

Brazilian production is getting more and more vigorous and that brings about its multiculturalism. National short film showcase gets a boost this year with Panorama São Paulo, a program dedicated to short films produced at São Paulo production houses.
For Special Programs we brought the Argentine Gustavo Taretto, who uses the city as both backdrop and character in his creations. We show also, in addition to the traditional programs, the sessions Living with Alzheimer's Disease, Off-Track, German Academies, Animated France and Labour.